Peach Post Fence
Peach Post Fence High quality surfaces
Our peach post fence systems have the best stainless steel surface currently available on the market.Panels and
posts are galvanized and optionally powder coated.Powder coating of galvanized surfaces gives the product the desired
aesthetic quality and prevents the oxidation of zinc.
Mounting method:
The panels are mounted on post sides by means of special mounting clips that ensure an easy erection and setting adjustment.
We ensure all necessary mounting accessories as well as a broad assortment of custom-made gates and
wickets.
Peach Post Fence Panels
Peach post fence panels are made of vertical and horizontal 5mm or 4mm wires. Horizontal V profiles whose number depends
on the height of the panel are an essential reinforcing element. The mesh has 50x200 mm straight apertures and 50x50 mm
profiled apertures.The width of the panels is standard, 2,500 mm, and the height range is 630-2,430 mm.The size and layout of
the apertures are designed to increase security by preventing intruders from scaling the fencing.
Technical parameters:
Peach Post Specification:

Post Size

:

70

X

100 X 1.2mm (thickness)&50X 70

X 1.2mm(thickness)

Height of Post (mm)

:

1000, 1300, 1600, 1900 & 2200

Peach Post Base

:

140 X 140 X 5mm (thickness)
Colors
The panels are made of galvanised steel wires, unpainted or painted in a colour with the powder method. The fence posts are
galvanised, then painted in a colour also with the powder method. Standard painting colour - green RAL 6005. Other colours
available at the customer's request.

Galvanized
Our panel fencing has standard galvanized anti-corrosion. In galvanization process a layer of zinc is formed on the surface of steel.
This coating protects steel against atmospheric corrosion.
Galvanized and powder coating
Galvanized panel fencing systems may be optionally powder coated in a colour of your choice. Powder coating enhances the
anti-corrosion by preventing the oxidation of zinc, owing to which our fencing systems preserve their aesthetic qualities for even
longer.
Peach Post Fence Benefits
· high strength and durability
· desired aesthetic qualities
· effective anti-corrosion in two varieties
· aesthetic finish
· speedy and easy installation
· good value for money
· wide range of available standard height and colour
· varieties
· matching optional equipment
Peach Post Fence Universal
Quality and aesthetic advantages of our peach post fence systems make them ideal solutions for both corporate
and private premises.Profiled lattice panels are ideal for:
· factories
· warehouses
· retail facilities
· public buildings
· detached private premises
· gated communities
· sport facilities
· parks
More Peach Post Fence Picture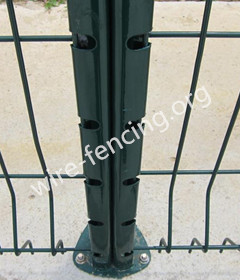 More Product picture pls check https://www.facebook.com/zxyaiwwp/photos_albums