Hesco bastion
1.Hesco bastion intruduction :
Hesco bastion also named as Hesco , Hesco barrier, Hesco wall , Hesco blast wall , Sand cage,
Welded gabion box , Defense blast wall for military use , Wire mesh gabion box , Stone cage etc.
The Hesco barrier is a kind of modern gabion for Military fortification and Flood control.
It is made of a collapsible wire mesh container and heavy duty fabric liner, it can be used in separate cell or some cells joint together.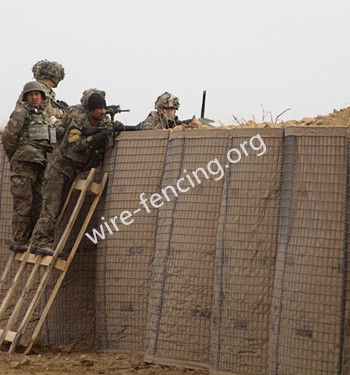 2.Hesco bastion specification :
Hesco bastion surface treatment :
| | | |
| --- | --- | --- |
| Hesco bastion / Hesco surface treatment | Min | Max |
| Electro galvanized | 10-15 g/m2 | 15 g/m2 |
| Hot dipped galvanized wire before welding | 40-60g/m2 | 60 g/m2 |
| Hot-dipped galvanized wire after welding | >400 g/m2 | 550 g/m2 |
Hesco bastion Geotextile detail :
| | | | |
| --- | --- | --- | --- |
| Geotextile | Color | Thickness | Weight |
| HG-1 | Write | 2.0-4.5mm | 150 - 1000 g/m2 |
| HG-2 | Grey | 2.0-4.5mm | 150 - 1000 g/m2 |
| HG-3 | Dark green | 2.0-4.5mm | 150 - 1000 g/m2 |
| HG-4 | Earth yellow | 2.0-4.5mm | 150 - 1000 g/m2 |
Hesco barrier size detail
More Hesco Bastion Picture
More Product picture pls check https://www.facebook.com/zxyaiwwp/photos_albums